Buy Champion Seed
Contests
Video
Growing World Champion Vegetables
Learn how to grow giant vegetable, tips & advice for all gardeners, buy seeds from champion vegetable, growing giant pumpkins secrets, giant gourd seeds, giant watermelon seeds.
How can you get started growing giant world record vegetables?
Years of experience has fine-tuned our approach to growing giant fruit and vegetables and the results are proof! Both novice and seasoned growers will learn a thing or two from our Bubba's Blunders!  So, don't be a Blunder Boob and get Bubba's list of the top ten mistakes that gardeners make.
To see some of the champions visit the Glory Page! We have growers who have grown world records in giant watermelons, pumpkins, sunflowers, gourds and long gourds.
My Approach
A family affair since I was a kid. Growing vegetables for the table is one thing, growing giants requires some planning.
The right watering, feeding and care is needed to get the results you want.
Giant Seeds
Starting with good seed is a great first step. Buy seeds from one of our champs to get started. This is a community of growers who collaborate to grow champions!
Get The Inside Scoop On Growing Giants!
You're Not Alone! Bubba and his tribe of growers will help you!
Growing giant pumpkin, watermelon, gourd, Sunflowers and more is my passion. I communicate with growers from around the globe share their combined wisdom through my emails blasts. Don't miss out on special one of a kind offers and the latest success stories from around the world. When you become a member and join our growing contest you get access to a secret Facebook page where we share growing tips and secrets that only champion growers have learned!
"What could be more fun than working with your grandson to grow a champion pumpkin? Hope you find our website useful and you can grow your own champ!"
Mark's grandson Jackson Reed shows off some tomatoes that he grew!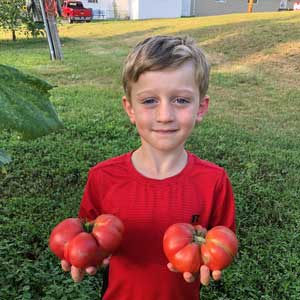 Check out my YouTube Channel! I visit growers around the country and share with you!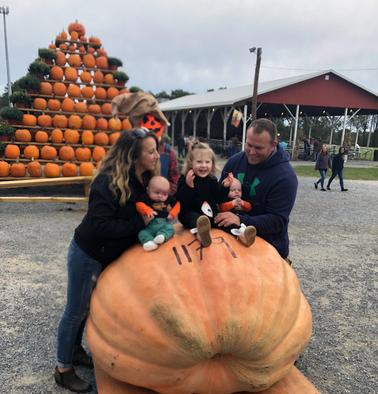 Frequently Asked Questions
Learn How it Works!
Are giant pumpkins hard to grow & can you grow more then 1 on a plant.?
It depends on your goal. To grow a possible state or world record the average champion growers give plants daily waterings & plant care. So much it is hard for them to take summer vacations without extra helpers involved. Growing 1 on a plant is a must to grow possible state records size 1500 to 2600 lb fruits. However, if you are happy with say 300 to 1000 lb fruit you can grow several on 1 plant. Growing 300 to 500 lbs requires much less work say 2 days a week watering & caring for plants.
When do I start my giant pumpkin plants?
We typically start them mid to late April depending on your climate. Warmer climates can start sooner.
How many hours of sun do giant pumpkins and watermelons need?
Giants like as much sun as your typical vegetable plant. 8-10 hours or more is great.
How far apart should Sunflowers be planted?
We recommend three to four feet of spacing apart to get them over 13 feet tall.
Help is here!
You can learn a lot from my emails, or if you need something special, reach out to me.
Email Address
mark@worldwidegiantgrowers.com
On this website you will learn about giant watermelon, giant pumpkin, growing giant pumpkins, giant pumpkins,mark mix, Worldwide Giant Growers, giant pumpkin growing tips, giant pumpkin growing secrets, world record pumpkin seed, giant sunflowers, growing giant sunflowers, giant gourd, giant pumpkins for sale, giant pumpkin growers, champion pumpkin. The information is provided by World Wide Giant Growers and its members and vendors. There is no guarantee that you will grow a giant or champion fruit. Results do vary.